The Good News and Bad News of Rescue
Every year we pray that kitten season will not bring us more than we can handle.  This year has amazed everyone!  The numbers of kittens needing our help seems endless.  Every rescue group and shelter in our area, and beyond, is filled to overflowing. We are stretched to the maximum for people to foster and for the dollars we need to spend to get all of them healthy.  This is the reason we are so adament about spaying and neutering all cats.
Your support has helped us rescue more cats and kittens this year than ever before.  In 2018 we had 262 adoptions for the whole year.  This year with 2 more months to go we are at 269! Wow!  Thank YOU!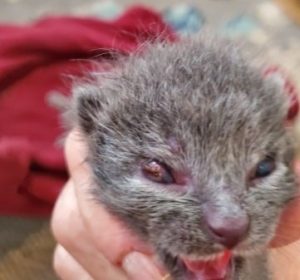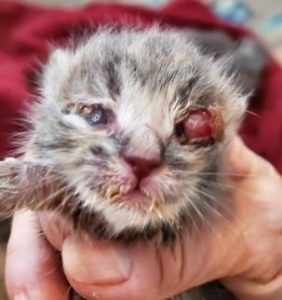 Currently we have 3 bottle babies that came to us in trouble.  They all have damaged eyes. The good news is they are all eating well and growing.  The bad news is they are all going to be blind or partially blind.  Please pray for Peanut, Pecan and Cashew.  These tiny ones were found in a storm drain.  How their eyes got damaged is a mystery.  All we know for sure is none of them will have normal vision. At least one kitten will need an eye removed.
Cats are amazing.  They can have a very normal life with one eye.  If they are totally blind they need more protection and help from us but they still can have a wonderful life.  Thank you for helping Peanut, Pecan (passed away), & Cashew!
If you have the heart to help a cat with special needs live in a loving home, please let us know.  These sweet babies will be up for adoption in a few months and will need special people like you to take care of them.

Facebook Feed: